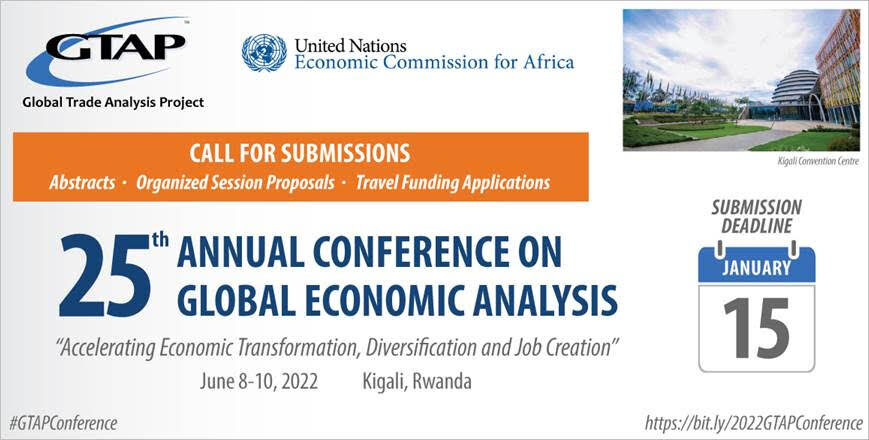 The goal of the conference is to promote the exchange of ideas among economists conducting quantitative analysis of global economic issues. Particular emphasis will be placed on applied general equilibrium methods, data, and application. Related theoretical and applied work is also welcome. The overall theme of the conference is "Accelerating Economic Transformation, Diversification and Job Creation" with subthemes on:
Accelerating economic transformation, diversification and job creation
Tackling the economics of regional integration and cooperation (including trade, investment/finance and regulatory issues)
Advancing value chains for competitiveness and economic development
Adjusting to global trade dynamics
Achieving sustainable development goals
Seizing the benefits of the digital economy for growth
Reducing poverty and inequality
Promoting gender in development
Tackling challenges related to climate change, environment and natural resources management
Filling data gaps
Deadline for Preliminary Submissions: January 15
Travel Funding Opportunities:
Individuals interested in being considered for one of the travel funding opportunities below must indicate so accordingly on the abstract submission form. In addition to the standard items required for abstract submission, those applying for funding must also upload their CV and the finished version of their paper. Selected recipients will be notified in late February/early March and will be required to make their own travel arrangements, pay all expenses up front, and then submit receipts to the Center for Global Trade Analysis for reimbursement following the conference.
Deadline for Travel Funding Opportunities: January 15
Please click here for further information on preliminary submissions requirements and travel funding opportunities.